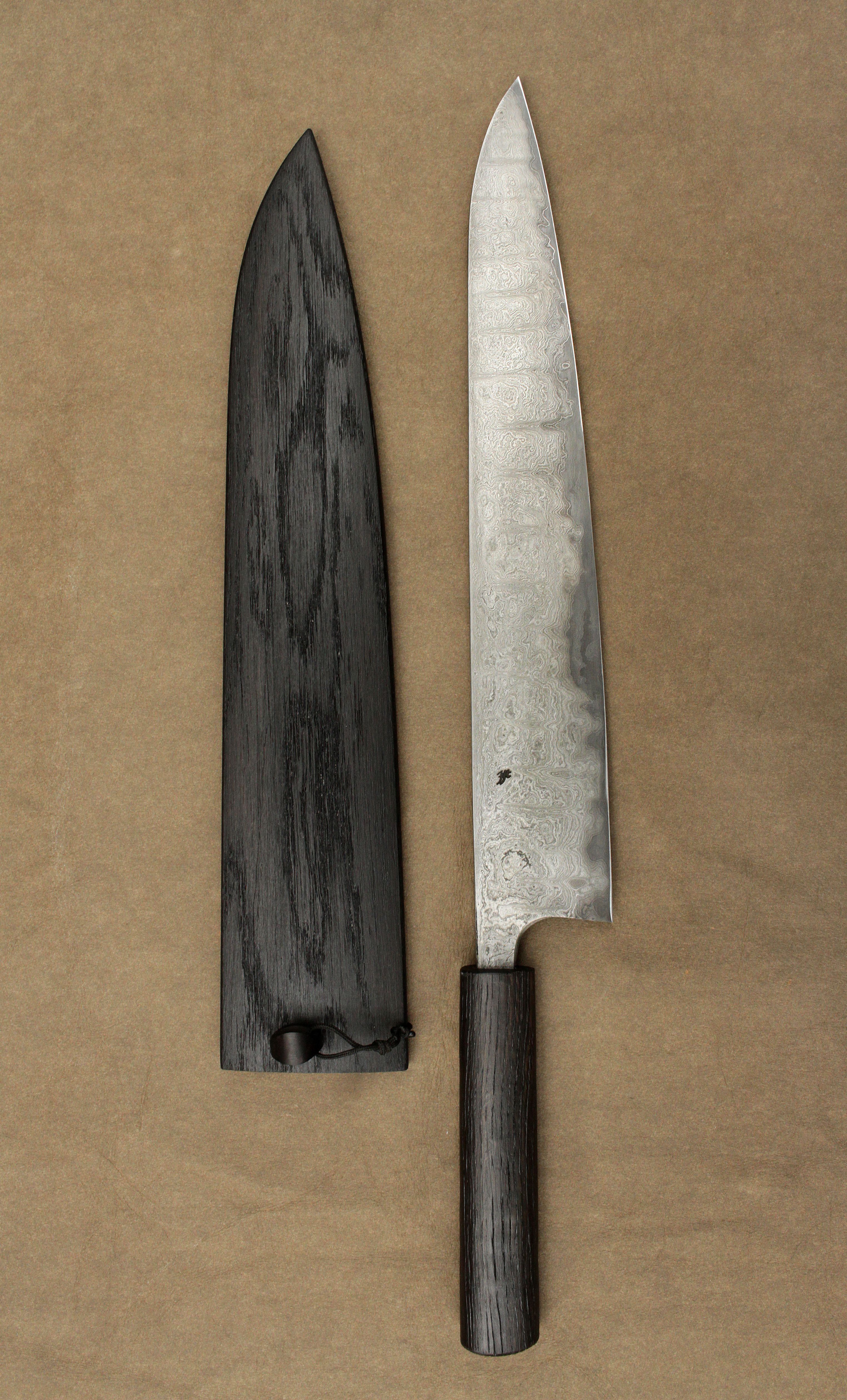 black Tiger is a commissioned work by Alois T. The specifications were as high a carbon content for the damascus core as I can get, with an outer damascus skin that is springy and pretty to look at.
I have chosen 1.2008(1,4%C+0,5%Chr) combined to a special steel made for the occasion with the help of my friend Jokke Lagerspets: 130Ni8(1,3%C+2%Ni). I firewelded them and brought them to 145 layers.
The outer skin is made of 240 layers CK75 mixed with pure iron and 15N20, plus another one thin skin welded on top made of 750 layers of pure iron and 15n20. Scabbard and handle are made of black bog oak, brushed and oiled.
Cutting edge length: 300mm Blade breadth: 50mm handle length: 125mm. I made a thin blade with maximum 4,5mm at the root, and most of the length under 2mm.
The main flex is at the the first third from the point, like a fishing rod.
The core damascus is way darker due to the ultra High Carbon content, then comes the carbon migration zone, then the springy damascus skin, and at the top the dead soft outer skin with the very fine pattern.

I have put a leach to the securing pin head. It may seem futile, but since Black tiger will be used as a Wa-Gyuto by Alois T who is a professional cook with his own restaurant, it seemed important to me that the securing pin shouldn´t get lost.

The details are interesting to look at, from the cutting edge to the back. Notice the transition from dark to light, from the very high carbon content to the very soft low carbon at the back, over the carbon difusion zone and the springy mix in between. Steel is an honest medium that shows everything you do to him.

At the point the outer skin with the lowest carbon content has been completely erased through the wetgrinding and polishing process. One may wonder why I say this, but it must be said, because I only removed 0,5mm on each side to get the blade ready for etching. It left a highly flexible part at the front third of the blade that can be pushed down without crumbling.