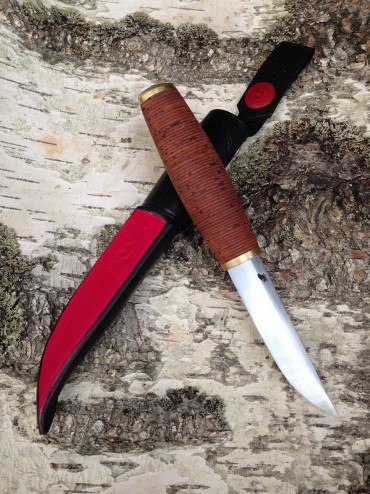 I made this Tommi for Markus. I mostly sticked to the good old way to do it. But I took
1.2516(1,2%C with 1%Tungsten) instead of 1.2210(Silversteel) for the blade steel, and changed the point spine geometry.
I also have a different system for the leather strap from which the sheath is hanging on the belt. This is an old system with a leather button that originally comes from Gudbrandsdalen in Norway.
Everything else sticks as close to the rules as I can do.
the tommi Puukko is supposed to be as elegant in his sheath as out of it.

This particular spine geometry is inspired by the East-Karelian Puukko from the North region of Ladoga lake.

Before I begin with piling up the birchbark pieces I have to ensure that the fit between blade and bolster is tight and clean. No glue is used for a Tommi. Before I learned from Mikko Inkeroinen how to do it The traditionnal way, I used to solder this hair line with tin…

I am ready with piling up the birchbark, and pinning the tang on the pommel.
now comes the shaping.

Fitting the pommel is easier since the tang ends up in a pointed shape. Still you have to pin it correctly because this is where all the grip is holding together.
A real Tommi doesn´t evolve the use of glue, or epoxy.